As a certified tea sommelier our Tea Alchemist is always working on blending teALCHEMY's internationally sourced ingredients to create something new and demonstrate that there are plenty of ways to move your tea beyond the pot. Lynda has developed a line of tea powders, rubs and syrups that make it easy for you to add tea ingredients to baked goods, as well as poultry, fish, roasts, stews and more. The possibilities are endless and we encourage you to create your own chemistry with these unique recipes, blends and flavours.
---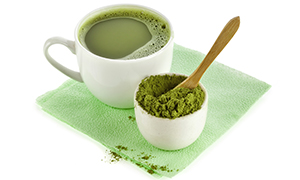 Matcha is the oldest, most premium variety of green tea in Japan. Buddhist Monks have been using Matcha green teas for meditation for over 800 years and only several dozen farmers in Japan have the understanding required to produce this tea, high in antioxidants and amino acids. To produce Matcha, the freshest leaves are handpicked, dried and ground by low friction granite stone mills into an ultra fine, jade green powder, and whisked with a bamboo whisk, creating Matcha powder which can be used to brew a unique, creamy velvet, full-bodied cup of tea. The Tea Alchemist encourages you to move beyond the pot with Matcha and use the powder in baking, we recommend adding it to your favourite holiday baking recipes.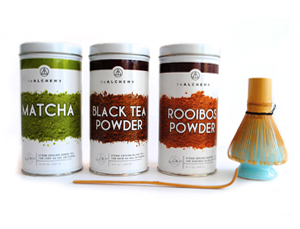 Like Matcha, when we consume Rooibos in its powder form, we are ingesting the whole leaf. teALCHEMY's rooibos powder is all natural, containing no sugar, additives, preservatives or colorants. It contains powerful antioxidants that fight free radicals to strengthen the body's natural defenses and support the immune system.
Rooibos soothes the central nervous system, is naturally caffeine free and recommended for people suffering from irritability, headaches and insomnia. Rooibos powder can be added to hot water or steamed milk for making lattés, smoothies and ice cream.
Black Tea Powder, a blend of Darjeeling, Assam tea from India. Vibrant deep hues and a delicious bold presence will refresh your senses. Try adding 1 tsp of our Black Tea Powder with 1 apple or pear to your next smoothie. Our Black Tea powder will also make a great latte with your favorite flavoured steamed milk.
---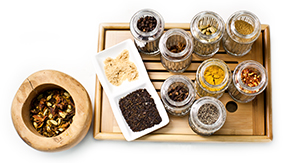 teALCHEMY's black tea rub is made with a flavorful and aromatic blend of black tea and spices. Apply a generous amount to your choice of meat, fish or poultry. Grill or roast as desired or add to your homemade soups to add some beyond the pot flavor your whole family will enjoy.
Blending ground tea leaves with spices like anise, cloves, cinnamon and ginger create our signature teALCHEMY tea rub and this course powder is a great secret ingredient to spice up traditional holiday roast recipes. No salt has been added.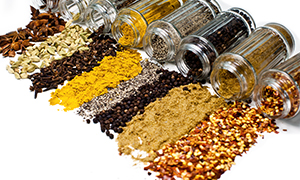 Natural fats in meat help to extract the flavor of tea but if you're not ready to rub it on your next roast, try adding teALCHEMY tea rub to your braising liquids, soups, stews and chutneys to create some new family traditions that will encourage your loved ones to get creative in the kitchen.
Ingredients: Black Tea, brown sugar, cinnamon, curry powder, ground cumin, red pepper flakes, ground black pepper, cayenne, star anise, cloves, fennel seed, ginger
We also suggest trying our Cochin Chai Tea or Pumpkin Patch as an alternative Tea Rub to your favorite meat or fish dish. Simply add enough tea to your spice grinder then top the recipe with this unique touch.
---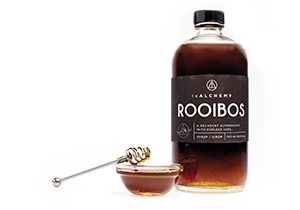 All teas can be made into tea syrup an added to a recipe as a sweetener with part tea and part sugar. To a heatproof container, add 2 oz sugar and 1 tbsp Tealeaves. Top with 2 oz. Boiling water and stir to dissolve sugar. Allow to cool. Fine strain out the liquid and refrigerate, covered, for up to one month. We suggest using tea syrups in tea cocktails, or as an added sweetener to your favourite recipes.
teALCHEMY has created a signature Rooibos Syrup that is fast becoming a go-to baking ingredient for local chefs and home cooks alike. Our Rooibos Syrup can be used on cheeses, waffles, pancakes or added to your favorite dessert